Open Source Won, but Software Freedom Hasn't Yet: A Guide & Commiseration Session for FOSS activists by Bradley M. Kuhn, Karen Sandler
Larger Events elsewhere tend to be corperate sponsored so probably wouldn't accept a talk like this
Free Software Purists
About 2/3s of audenience spent some time going out of their way using free software
A few years ago you could only use free software
To watch TV. I can use DRM or I can pirate. Both are problems.
The web is a very effecient way to install proprietary software (javascript) on your browser
Most people don't even see that or think about it
Laptops
2010-era Laptops are some of the last that are fully free-software
Later have firmware and other stuff that is all closed.
HTC Dream – some firmware on phone bit but rest was free software
Electronic Coupons
Coupons are all Digital. You need to run an app that tracks all you processors
"As a Karen I sometimes ask the store to just ket me have the coupon, even though it is expired"
Couldn't install Disneyland App on older phones. So unable to bypass lines etc.
Proprietary dumping ground
Bradly had a device. Installed all the proprietary apps on it rather than his main phone
But it's a bad idea since all the tracking stuff can talk to each other.
Hypocrisy of tradition free software advocacy
Do not criticise people for use Proprietary software
It is it is almost impossible to live your life without use it
It should be an aspirational goal
Person should not be seen as a failure if they use it
Asking others to use it instead is worse than using it yourself
Karen's Laptop: It runs Debian but it is only "98% free"
Paradox: There more FOSS there is, the less software freedom we actually have in our technology
But there is less software freedom than there is in 2006
Because everything is computerized, a lot more than 15 years ago.
More things in Linux that Big companies want in datacentres rather than tinkerers in their homes want.
What are the right choices?
Be mindful
Try when you can to use free software. Make small choices that support software freedom
Shine a light on the problem
Don't let the shame you feel about using proprietary software paralyze you
and don't let the problems we face overwhelm you into inaction
Re-prioritize your FOSS development time.

Is it going to give more people freedom in the world?
Maybe try to do a bit in your free time.

Support each other
FAIF.us podcast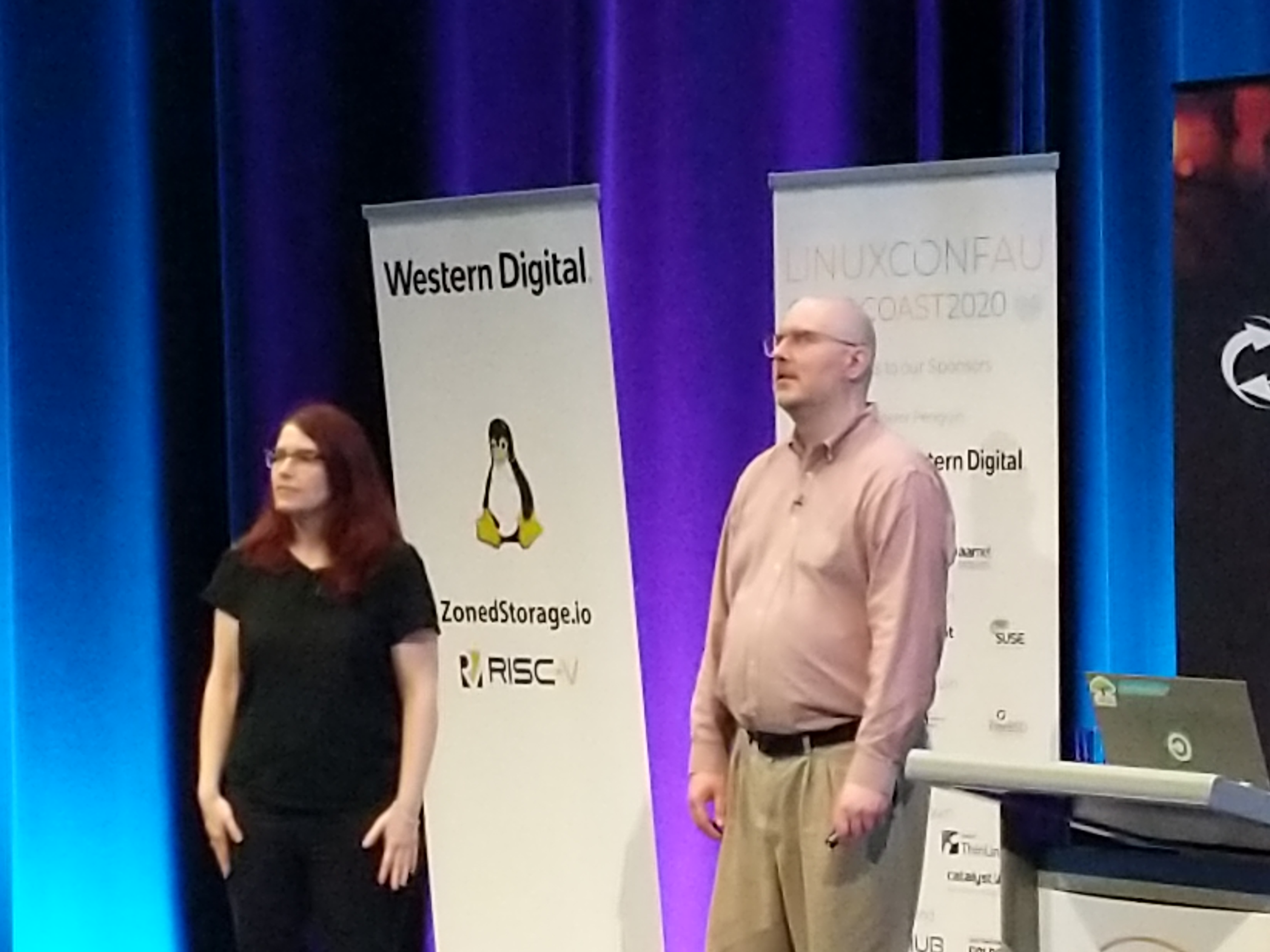 Advanced Stream Processing on the Edge by Eduardo Silva
Data is everywhere. We need to be able to extract value from it
Put it all in a database to extract value
Challenge: Data comes from all sorts of places

More data -> more bandwidth -> more resource required
Delays as more data ingested

Challenge: lots of different formats
Ideal Tool
Collect from different sources
convert unstructured to structured
enrichment and filtering
multiple destinations like database or cloud services
Fluentbit
Started in 2015
Origins lightweight log processor for embedded space
Ended up being used in cloud space
Written in C
Low mem and CPU
Plugable arch
input -> parser -> filter -> buffer -> routing -> output
Structure Messages
Unstructured to structured
Metadata
Can add tags to date on input, use it later for routing
Stream processing
Perform processing while the data is still in motion
Faster data processing
in Memory
No tables
No indexing
Receive structured data, expose a query language
Nomally done centrally
Doing this on the edge
Offload computation from servers to data collectors
Only sends required data to the cloud
Use a SQL-like language to write the queries
Integrated with fluent core
Functions
Aggregation functions
Time funtiocs
Timeseries functions
You can also write functions in Lua
Also exposed prometheus-type metrics