Spoilers: Minor for Passengers, Major for 50 Girls 50.
In late 2016 the movie "Passengers" came out staring Jennifer Lawrence and Chris Pratt. The movie is set aboard a sleeper spaceship and the plot centers around the two leads characters waking up early. I won't say more about movie but there is summary of the plot in the wikipedia entry for the movie. You can compare it to the comic below to see the similarities and differences.
When I first saw the trailer it reminded me of a Sci-Fi comic I read years ago, others noticed it was similar and gave a name of the comic as "50 Girls 50" by Al Williamson. I couldn't find a summary of short story so I thought I'd write it up here.
50 Girls 50 by Al Williamson – Plot summary
The story is a 6 page comic with one off characters originally published in 1953. It is set in the distant future aboard a spaceship making humanity's first journey to a nearby star. Since the trip will take 100 years the the crew/passengers of 50 women and 50 men (hence the title) will be frozen for the whole journey. However the freezing technology used only works on a person once, if you attempt to refreeze somebody they will die.
The plot of the story is partially told though flashbacks but I'll tell it is chronological order.
The main character is Sid who before the voyage starts is attracted to one of the other passengers Wendy. Wendy notices his attraction and they get together. After a time Wendy has proposition for him. She suggest that Sid sabotage the Deep-freeze (D-F) units so that he wakes up early. He can then wake her up and they can wake up the others one at a time and "make them our slaves"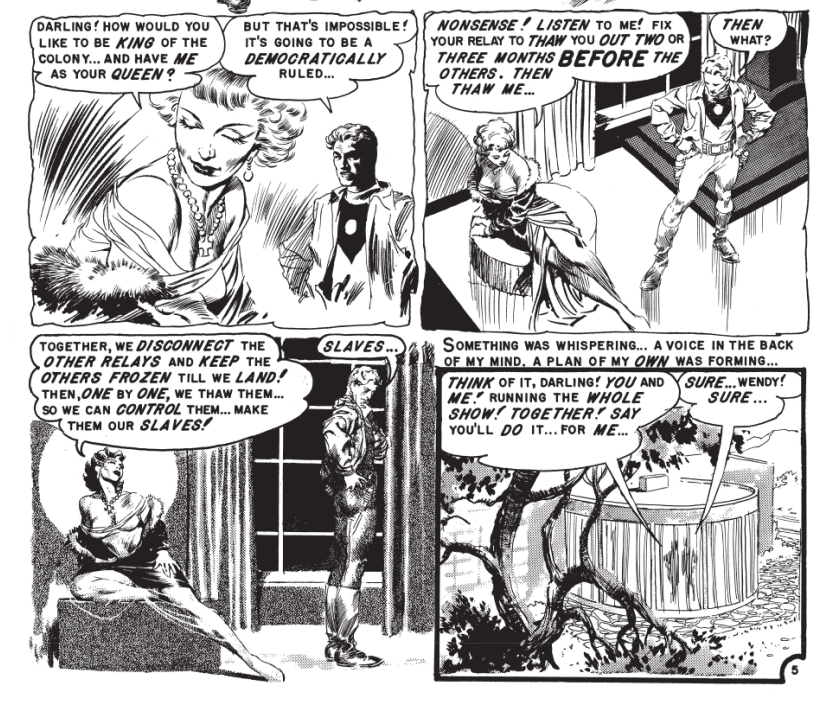 Sid however as his own idea. What he wants to do is just have a series of girlfriends. He'll set his clock for two years into the voyage. Then he will wake up Wendy and live with he for a while, when he gets tired of Wendy he will get rid of her and move to the next girl and so on.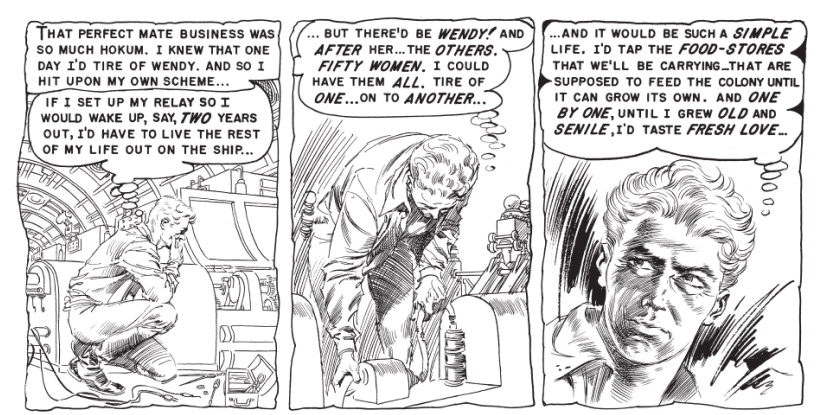 Once the voyage starts things go to Sid's plan. He thaws out 2 years in but instead of waking up Wendy he decided to thaw out Laura first. He then pretends to Laura that they both accidentally thawed out.
"Almost a year" later he gets tired and Laura, shoots her with a "Paralyzer" gun and stuffs her back in a Freeze-chamber to die.
He then prepares to wake Wendy. First he sets the Ships clock to say they will reach the destination in 3 years to give him enough time to get tired of Wendy. Things don't go according to plan however when Wendy wakes up: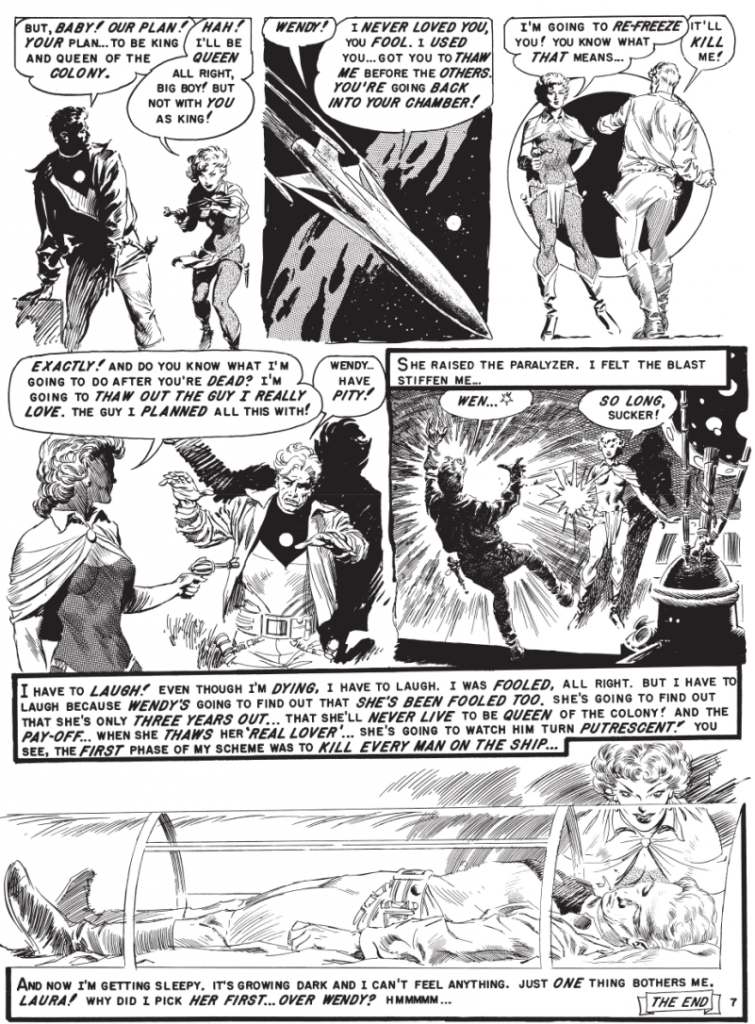 Not really a happy ending for anyone, although it is not like Sid or Wendy really deserved one.