A version of this article was published on the Greater Auckland Website.
Background
In late January 2022 the government announced that it was building a $15 billion light rail line from the Airport to the City Center via Mount Roskill. The line would be tunneled for about half it's length.
The response from the Transport community was not positive. The price tag was extremely high especially on a per-kilometre basis for what it delivered. The likely result seemed to be further years of planning before cancellation when a pro-road National Government is elected.
This article will cover one alternative. It is a fairly low cost surface light-rail line that can be built quickly and expanded later.
What does Minimum Viable mean?
A Minimum Viable Product is a product (such as a website, store or app) that can be built cheaply and quickly but does enough to be useful. It is intended to get the idea to real customers and be built on later.
The Minimum Viable Light rail is similar:
Cheap and quick to build
Is in a useful location and worthwhile to build
Is designed to expanded soon after being built
Overview of the alternative line
The idea of the line was sparked by this twitter thread:
" The very original musings by AT for LR had a Stage 1 which simply ran from Wynyard to Eden Terrace. Something similar could be brought back to serve a large, master-planned renewal project around the Dom Rd Junction. "

Tweet by ScootFoundation
My expansion on Scoot's proposal would be a short version of the street level Light Rail line originally proposed by Auckland Transport. It would be cover just 3.3 kilometres from The Civic Corner to Eden Quarter along Queen Street and Dominion Road.
The system is a simple two-line surface running light rail. In the inner section (north of Mayoral Drive) it would run on two reserved centre lanes at street level allowing pedestrians to easily cross. Further out in areas of lower pedestrian volume the lanes would be raised or fenced to discourage traffic further and allow higher speeds. In the innermost sections cars would be limited while in the outer sections they would have a lane on each side of the road but parking would be largely removed.
Vehicles would be 33 metre low floor (or 70% low floor) vehicles like the CAF Urbos 3. Overhead power would be used.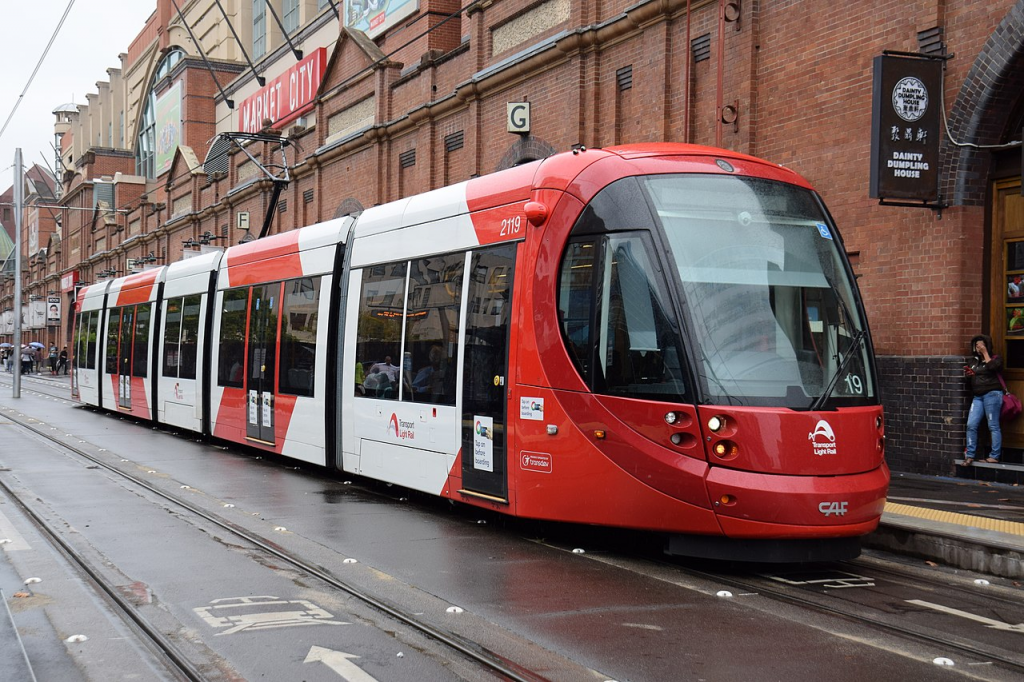 The Route
The line would start at the Civic Corner (near Te Wai o Horotiu rail station and Aotea Square) and run south to Dominion Road to the Eden Quarter shopping area between Bellwood Avenue and Valley Road.
The Civic Corner is where the current Dominion Road buses terminate so it would be the same destination for most current riders (except those going to the Universities). Stopping the line here would also avoid the heavily built up northern 800 metres of Queen Street where there will be conflicts with local merchants.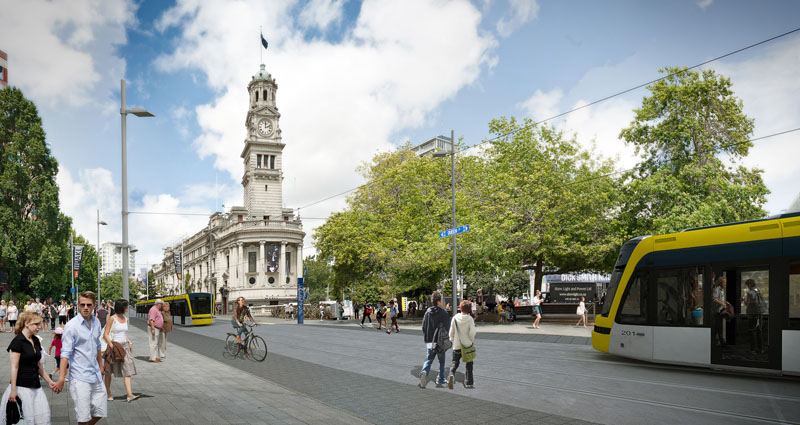 The line would go south across Mayoral Drive and then climb up Queen Street. At some point up the hill it would in into a tunnel under Karangahape Road. There would be a stop near here. This could be on one side of the tunnel or perhaps even inside it.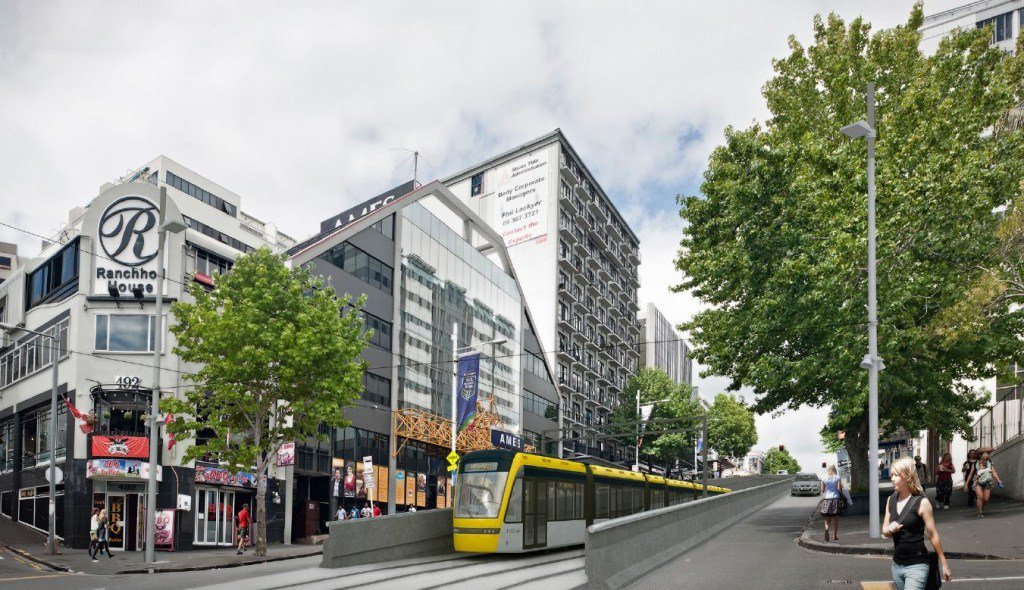 The line would then continue along Upper Queen Street before turning into Ian McKinnon Drive and following it to Dominion Road. Along this section we should future-proof the line for a future branch along New North Road.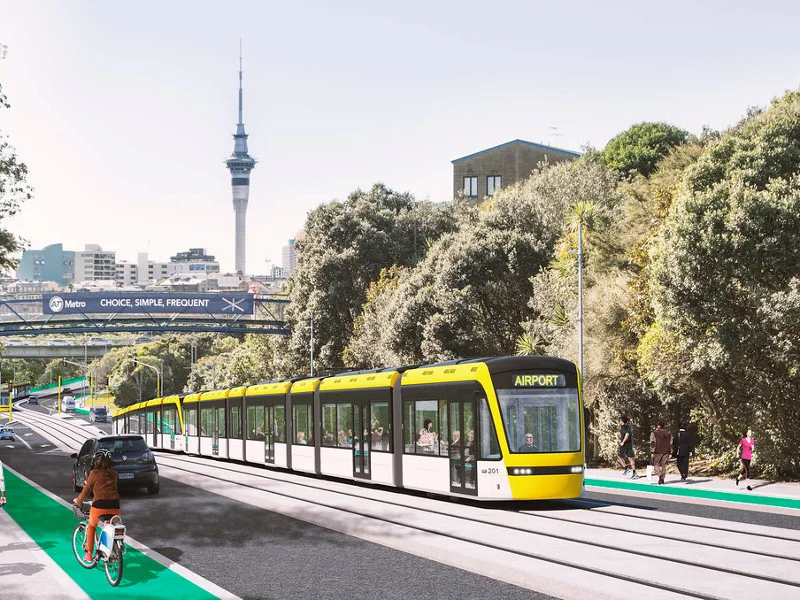 The next stop of the line would be on Dominion Road near View Road. This area is a mix of offices, light industry, apartments and houses and is ripe for increased density.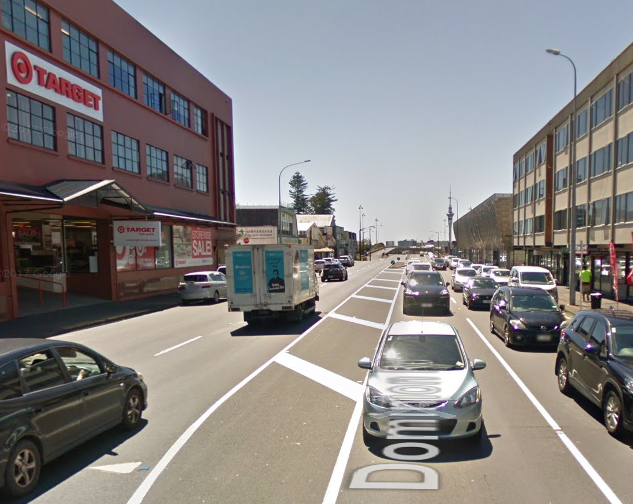 The line would then continue south down the hill, across Walters/Valley Road and terminating before it reaches Bellwood Avenue at the Eden Quarter stop. This stop would be placed to allow passengers to easily transfer to and from Dominion Road buses. It is also a short walk to Eden Park.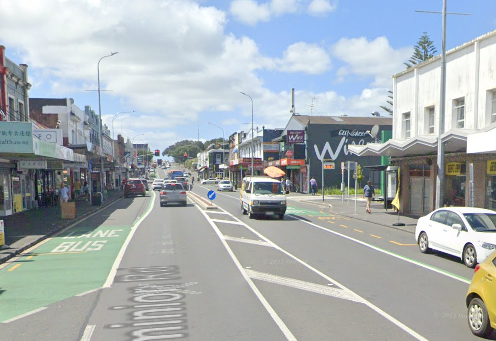 At the final stop the driver would walk to the other end of the train for the return journey.
Operation
Making the conservative assumptions that each train averages 15 km/h in the inner city section and 30km/h in the other sections with a wait of 30 seconds at each stop we get the following travel times:
Stop name
Distance
from Civic
Average
Speed
Travel Time
Civic
0m
n/a
Depart 00:00
Karangahape Road
800m
15 km/h
Arrive 03:15
Depart 03:45
View Road
2600m
30 km/h
Arrive 07:20
Depart 07:50
Eden Quarter
3230m
30 km/h
Arrive 09:00
This would be an average speed of 21km/h which possibly could be increased, especially along the Southern sections where there are fewer conflicts with pedestrians and cars.
Assuming we allocate 2 minutes at each end for turnaround then each vehicle would takes just 22 minutes to completed the whole route. This means that just five vehicles should be able to maintain a headway (interval between trains) of 5 minutes in both directions.
Line Capacity with a train every 5 minutes and using 33m light rail cars carrying 210 people (as in the Auckland light rail proposed) would be 2500 passengers/hour in each direction. This comfortably exceeds what the current double-decker buses carried in peak mornings during 2019.
The line should be designed to allow two cars per train bringing length to 66m. If these were brought in and headway was reduced to three minutes then capacity would be 8400 passengers/hour.
Buses coming towards to the city would drop off passengers at a stop just before Bellwood Avenue. They then turn left down Bellwood Avenue to Eden Park and then return along Walters Road before making a right-hand turn back into Dominion Road and stopping to pick up passengers before heading south.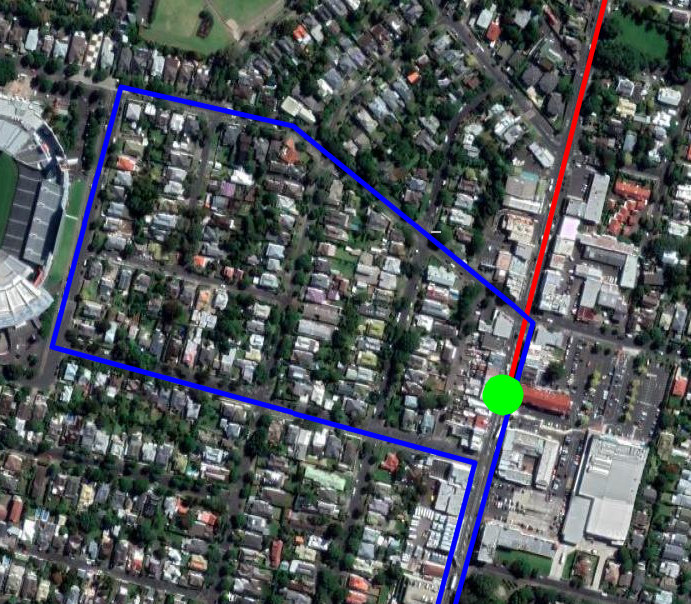 Currently buses at peak hour take 11 minutes via Queen Street and 18 minutes via Mount Eden Road and Symonds Street, so this would save time for most passengers even with the transfer between bus and light rail.
Service Facility
The line would need a small service facility for vehicle storage and maintenance. This would eventually be replaced when the line is extended but would be needed to serve the initial fleet.
A property would need to be purchased and built. Probably near View Road although there are other options such as public land on Ian McKinnon Drive.
Building it.
Total distance would be just 3.3 kilometres which should be build-able for perhaps $NZ 300m including around seven vehicles. The cost of nearly $100m/kilometre reflects the fairly short line in a built-up area but is actually quite conservative. Costs of similar systems overseas are usually less.
In his original twitter thread Scoot suggested a price of $100m and that a large part of the cost could be covered by a special rate on developments in the area.
Construction should be possible in 3-4 years especially with best practice of working 12+ hours per day. A comparison might be the 5.5km Lund Tramway which was build for ~$NZ 250m in 3.5 years.
Future Extensions
Extensions should be planned as soon as possible to allow a continuous stream of work. I plan to detail these in a later article but they could include:
North along Queen Street to Customs Street. Probably with a stop around Wyndham Street – 750m
North-East from Queen/Customs to Wynyard Quarter. 1-1.5km
South on Dominion Road to State Highway 20 – 4km
South along New North Road and Sandringham Road as far as SH20 – 5km
A replacement maintenance facility will also need to be built. Probably near SH20
Further extensions south of SH20.
Questions
Q: What about the Airport and Mangere?

A: We should not try and serve these areas with the same line as the Dominion and Sandringham Road. Instead a high capacity Light Metro line though Mangere Town Centre, Onehunga, Manukau Road, Newmarket could serve them, See Matthew Beardsworth's article If we're going to tunnel light rail, do it right! .
Q: What about going to Britomart?

A: Britomart would be the natural place to terminate the line. However I think there will be strong opposition to any disruption from the local business owners that would delay the project. Building the line only as far North as the Civic Corner avoids the most heavily built-up shopping stretch of Queen Street.

However I think the link to Britomart should be a priority and should be built as soon as possible. Building it later avoids it delaying the initial build of the line.
Q: Won't this line eventually fill up?

A: The line should handle several times the peak 2019 Dominion Road and Sandringham Road demand. If demand eventually exceeds that then there are options ranging from lengthening the vehicles to building new lines to take demand ( eg along Mount Eden Road). Part of the problem with the government's current proposal is one line is expected to cover all requirements.
Q: Won't this reduce car capacity into the CBD?

A: Yes it will. But currently there are only 900 people in 800 cars using Dominion Road during the peak hour (less in Queen Street) . The initial capacity of the Light rail will be 3 times that. Also the line will reduce the numbers of buses going into the CBD.
Q: Would the overhead lines be unsightly?

A; Most of the photographs about include overhead lines. They tend to be fairly inconspicuous. Systems that do away with them cost more and are non-standard.
Q: What about University Students?
A: The line would unfortunately remove direct access to the Universities. Students would have two main options:
1. Get off at the Karangahape Road stop, walk to Symonds Street and catch a bus further down Symonds Street.
2. Get off at Civic Stop and walk up the hill.