I did a big twitter thread of the YouTube channels I am following. Below is a copy of the tweets. They are a quick description of the channel and a link to a sample video.

Lots of pop-Science and TV/Movie analysis channels plus a few on other topics.

I should mention that I watch the majority of YouTube videos at speed 1.5x since they usually speak quite slowly. To Speed up videos click on the settings "cog" and then select "Playback Speed" . YouTube lets you go up to 2x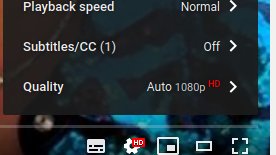 Chris Stuckmann reviews movies. During normal times he does a couple per week. Mostly currently releases with some old ones. His reviews are low-spoiler although sometimes he'll do an extra "Spoiler Review". Usually around 6 minutes long.
Star Wars: The Rise of Skywalker – Movie Review
Wendover Productions does explainer videos. Air & Sea travel are quite common topics. Usually a bit better researched than some of the other channels and a little longer at around 12 minutes. Around 1 video per week.
The Logistics of the US Census
City Beautiful is a channel about cities and City planning. 1-2 videos per month. Usually around 10 minutes. Pitched for the amateur city and planning enthusiast
Where did the rules of the road come from?
PBS Eons does videos about the history of life on Earth. Lots of Dinosaurs, early humans and the like. Run and advised by experts so info is great quality. Links to refs! Accessible but dives into the detail. Around 1 video/week. About 10 minutes each.
How the Egg Came First
Pitch Meetings are a writer pitching a real (usually recent) movie or show to a studio exec. Both a played by Ryan George. Very funny. Part of the Screen Rant channel but I don't watch their other stuff
Playlist
Netflix's Tiger King Pitch Meeting
MrMobile [Michael Fisher] reviews Phones, Laptops, Smart Watches & other tech gadgets. Usually about one video/week. I like the descriptive style and good production values, Not too much spec flooding.
A Stunning Smartwatch With A Familiar Failing – New Moto 360 Review
Verge Science does professional level stories about a range of Science topics. They usually are out in the field with Engineers and scientists.
Why urban coyote sightings are on the rise
Alt Shift X do detailed explainer videos about Books & TV Shows like Game of Thrones, Watchmen & Westworld. Huge amounts of detail and a great style with a wall of pictures. Weekly videos when shows are on plus subscriber extras.
Watchmen Explained (original comic)
The B1M talks about building and construction projects. Many videos are done with cooperation of the architects or building companies so a bit fluffy at times. But good production values and interesting topics.
The World's Tallest Modular Hotel
CineFix doesn't a variety of Movie-related videos. Over the last year only putting about one or two per month and mostly high quality. A few years ago they were at higher volume and had more throw-aways
Jojo Rabbit – What's the Difference?
Marques Brownlee (MKBHD) does tech reviews. Mainly phones but also other gear and the odd special. His videos are extremely high quality and well researched. Averaging 2 videos per week.
Samsung Galaxy S20 Ultra Review: Attack of the Numbers!
How it Should have Ended does cartoons of funny alternative endings for movies. Plus some other long running series. Usually only a few minutes long.
Avengers Endgame Alternate HISHE
Power Play Chess is a Chess channel from Daniel King. He usually covers 1 round/day from major tournaments as well as reviewing older games and other videos.
World Champion tastes the bullet | Firouzja vs Carlsen | Lichess Bullet match 2020
Tom Scott makes explainer videos mostly about science, technology and geography. Often filmed on site rather than being talks over pictures like other channels.
Inside The Billion-Euro Nuclear Reactor That Was Never Switched On
Screen Junkies does stuff about movies. I mostly watch their "Honest Trailers" but they sometimes do 'Serious Questions" which are good too.
Honest Trailers | Terminator: Dark Fate
Half as Interesting is an offshoot of Wendover Productions (see above). It does shorter 3-5 minutes weekly videos on a quick amusing fact or happening (that doesn't justify a longer video)
United Airlines' Men-Only Flights
Red Team Review is another movie and TV review channel. I was mostly watching them when Game of Thrones was on and since then they have had a bit less content. They are making some Game of Thrones videos narrated by the TV actors though
Game of Thrones Histories & Lore – The Rains of Castamere
Signum University do online classes about Fantasy (especially Tolkien) and related literature. Their channel features their classes and related videos. I mainly follow "Exploring The Lord of the Rings". Often sounds better at 2x or 3x speed.
A Wizard of Earthsea: Session 01 – Mageborn
The Nerdwriter does approx monthly videos. Usually about a specific type of art, a painting or film making technique. Very high quality
How Walter Murch Worldized Film Sound
Real Life Lore does infotainment videos. "Answers to questions that you've never asked. Mostly over topics like history, geography, economics and science".
This Was the World's Most Dangerous Amusement Park
Janice Fung is a Sydney based youtuber who makes videos mostly about food and travel. She puts out 2 videos most weeks.
I Made the Viral Tik Tok Frothy DALGONA COFFEE! (Whipped Coffee Without Mixer!!)
Real Engineering is a bit more technical than the average popsci channel. The especially like doing videos covering flight dynamics. but they cover lots of other topics
How The Ford Model T Took Over The World
Just Write by Sage Hyden puts out a video roughly once a month. They are essays usually about writing and usually tied into a recently movie or show.
A Disney Monopoly Is A Problem (According To Disney's Recess)
CGP Grey makes high quality explainer videos. Around one every month. High quality and usually with lots of animation.
The Trouble With Tumbleweed
Lessons from the Screenplay are "videos that analyze movie scripts to examine exactly how and why they are so good at telling their stories"
Casino Royale — How Action Reveals Character
HaxDogma is another TV Show review/analysis channel. I started watching him for his Watchmen Series videos and now watch his Westworld ones.
Official Westworld Trailer Breakdown + 3 Hidden Trailers
Lindsay Ellis does videos mostly about pop culture, Usually movies. These days she only does a few a year but they are usually 20+ minutes.
The Hobbit: A Long-Expected Autopsy (Part 1/2)
A bonus couple of recommended Courses on 'Crash Course'
Crash Course Astronomy with Phil Plait
Crash Course Computer Science by Carrie Anne Philbin