The Fight to Keep the Watchers at Bay – Mark Nottingham
Disclaimer: I am not a security person, But in some sense we are all security people.
Why Secure the Internet
In the beginning it was just researchers and a Academics
Snowden was a watershed moment
STRINT Workshop in 2014
It's not just your website, it's the Javascript that somebody in injecting in front of it.
What has happened so far?
http -> https

In 2010 even major services, demo of firesheep program to grab cookies and auth off Wifi
Injecting cookies in http flows
Needed to shift needle to https
http/2 big push to make encrypted-only , isn't actually though browsers only support https.
"Secure Contexts" cool features only https

Problem: Mixed Content

"Upgrading Insecure Requests" allow ad-hoc by pages
HTTPs is slow – istlsfastyet.com
Improvement in speed of implimentations
Let's Encrypt

Around 85-90% https as of Early 2020
Some people were unhappy

Slow Satellite internet said they needed middle boxes to optimise http over slow links
People who did http shared caching

TLS 1.2 -> TLS 1.3

Complex old protocol
Implementation monculture
Outdated Crypto
TLS 1.3

Simplify where possible
encrypt most of handshake
get good review of protocol
At around 30%
Lots of implementations

Some unhappy. Financial institutions needed to sniff secure transactions (and had bought expensive appliances to do this)

They ended up forkign their own protocol

TCP -> QUIC

TCP is unencrypted, lots of leaks and room for in-betweens to play around
QUIC – all encrypted
Spin Bit – single bit of data can be used by providers to estimate packet loss and delay.

DNS -> DOH

Lots of click data sold by ISPs
Countries hijacking DNS by countries to block stuff
DNS over https co be co-located by a popular website
Some were unhappy

Lots of pushback from governments and big companies
Industry unhappy about concentration of DNS handling
Have to decide who to trust

SNI -> Encrypted SNI

Working progress, very complex
South Korea unhappy, was using it to block people

Traffic Analysis

Packet length, frequency, destinations
TOR hard to tell. Looking at using multiplexing and fix-length records

But the ends

Customer compromised or provider compromised (or otherwise sharing data)

Observations

Cost and Control

Cost: Big technology spends no obsolete
Control: some people want to do stuff on the network

We have to design tthe Internet to the pessimistic case
You can't expose application data to the path anymore
Well-defined interfaces and counterbalanced roles
Technology and Policy need to work togeather and keep each other in check
Making some people unhappy means you need some guiding principles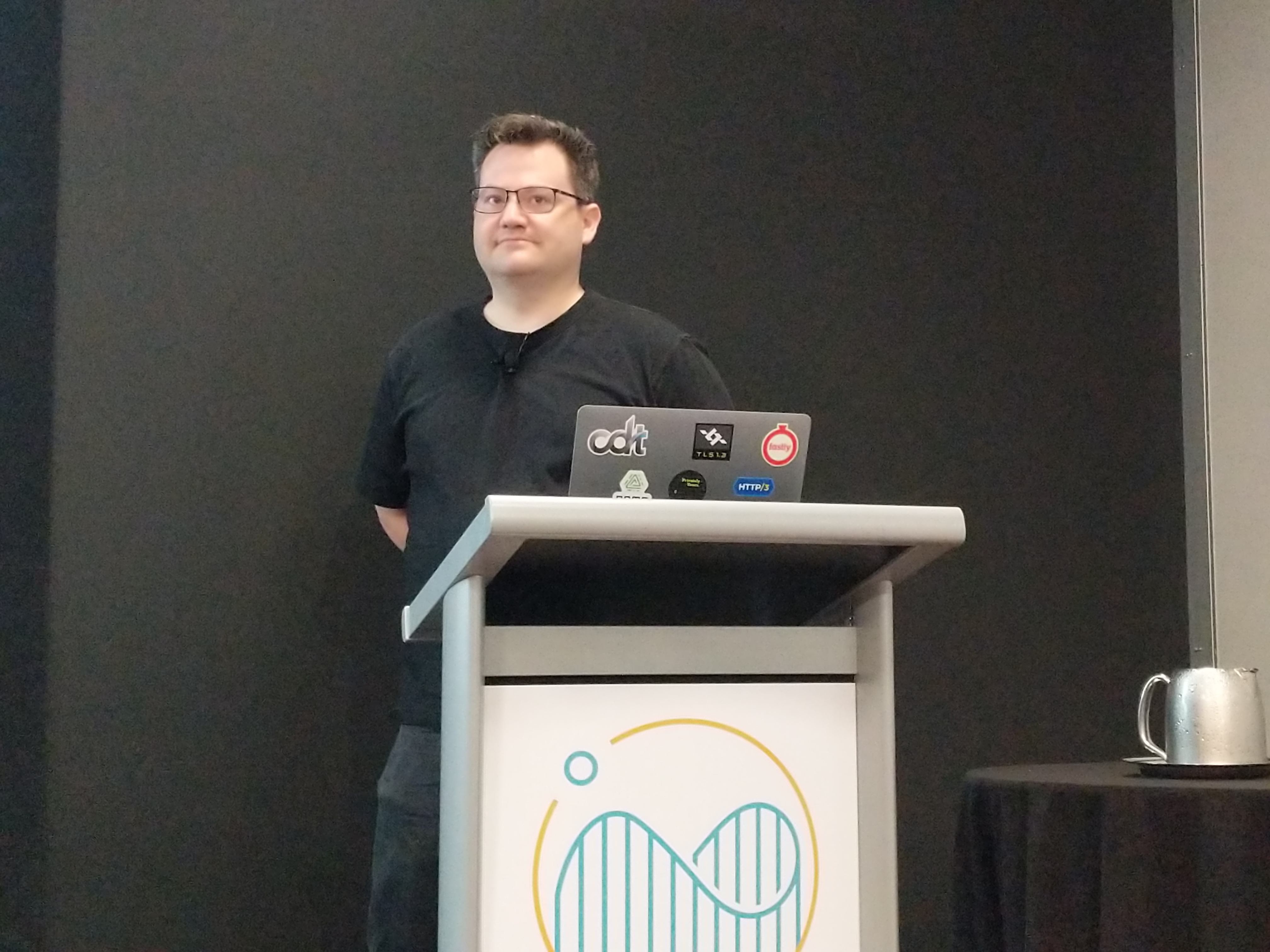 LumoSQL – updating SQLite for the modern age – Dan Shearer
LumoSQL = SQLite + LMDB – WAL
SQLite
" Is a replacement for fopen() "
Key/Value stores.

Everyone used Sleepycat BDB – bought be Oracle and licensed changed
Many switched to LMDB (approx 2010)

Howard Chu 2013 SQLightning faster than SLQite but changes not adopted into SQLite
LumoSQL
Funded by NLNet Foundation
Dan Shearer and Keith Maxwell
What isn't working with SQLite ?
Inappropriate/unsupported use cases
Speed
Corruption
Encryption
What hasn't been done so far
Located code, started on github.com/LumoSQL
Benchmarking tool for versions matrix
Mapped out how the keywords store works

So different backend can be dropped in.

Fixed bugs with the port and with lmdb
What's Next
First Release Feb 2020
Add Multiple backends
Implement two database advances