Over Easter 2016 (March 25th – 27th) I played in the Wellington Open Chess Tournament. I play in the tournament about half of the time. This year it was again being played at the CQ Hotel in Cuba street so I was able to stay at the venue and also visit my favorite Wellington cafes.
There were 43 players entered (the highest for several years) with around 9 coming down from Auckland. I was ranked 16th with a rating of 1988 and the top 4 Wellington players ( Dive, Wastney, Ker & Croad) who are all ranked in the Top 10 in NZ were playing.
See the Tournament's page for details and downloads for the games. Photos by Lin Nah and me are also up on Flickr for Days one, two and three.
Round 1 – White vs Dominic Leman (unrated) – Result win
This game was over fairly quickly after my opponents 5th Move (Nf6) which let me win a free Bishop after ( 5.. Nf6 6.Nxc6 bxc6 7.Bxc5 ) and then they played (7.. Nxe4) to take the pawn which loses the Night since I just pin it again the King with Qe2 and pick it up a move or two later.
Round 2 – Black vs Michael Steadman ( 2338) – Result lose
Mike plays at my club and is rated well above me. However I put on a pretty poor show and made a mistake early in the Opening (which was one of my lines rather than something Mike usually plays). Error on move 5 lost me a pawn and left my position poor. I failed to improve and resigned on move 21.
Round 3 – White vs Kate Song (1701) – Result win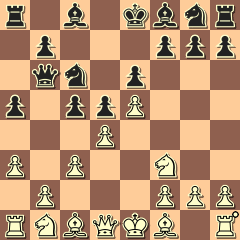 I was very keen on beating Kate. While she is rated almost 200 points lower than me she improving faster and beat me in the last round of the Major Open at the NZ Champs at the start of this year.
We were the same colours as our game in January so I spent some time prepping the opening to avoid my previous mistakes.
In that game Black played 6.. a5  (see diagram) and I replied with the inaccurate Be2 and got tied into knots on the Queen side. This time I played 7. Bd3 which is a better line. However after 7. ..Nh6 8. dxc5 Bxc5 9. O-O black plays Ng4 which gives me some problems. After some back and forth Black ended up with a bit of a mid-game advantage with a developed bishop pair. and control of the open C file.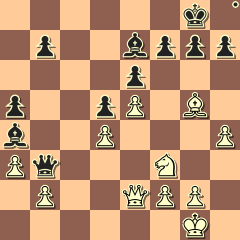 However on move 27 after the rooks had been swapped I was able to play Bg5 which threaten to swap Black's good Bishop or push it backwards. I offered a draw.
Luckily for me Kate picked to swap the Bishops and Queens with 27. ..Bxg5 28.Nxg5 Qd1+ 29.Qxd1 Bxd1 which left me with almost all my pawns on black squares and pretty safe from her white squared bishop. I then was able to march my King over to the Queenside while my Kingside was safe from the Bishop. After picking up a the a-pawn when the Knight and Bishops swapped I was left with a King plus A&B pawns vs King an b-pawn with around 3 tempo in reserve for pushing back the Black king.
Round 3 – Michael Nyberg vs Leighton Nicholls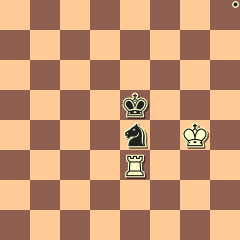 Another game during round 3 went very long. This was the position after move 71 , White has just taken blacks last pawn. The game kept going till move 125! White kept try to force black to the edge of the board while black kept his king close to the centre and the Knight nearby (keeping the king away with checks and fork threats).
At move 125 Black (Nicholls) claimed a draw under the 50-move rule at which point Michael Nyberg asked "are you sure" and "are you prepared for any penalties?". After Leighton confirmed he wanted to go ahead with the claim Michael claimed that the draw rules were changed a couple of years ago and that King+Rook vs King+Knight was allowed 75 moves. And that since the draw claim was incorrect Leighton should lose.
However a check of the Official FIDE rules online showed that there was no such special limited for the material, the rule is always 50 moves (Rule 9.3) . The penalty for incorrectly claiming a draw would also have been 2 minutes added to Michael's time not Leighton losing the game (Rule 9.5b).
The Arbiter checked the rules and declared the game a draw while Michael grumbled about appealing it (which did not happen). Not a good way to end the game since I thought Leighton defended very well. Especially the way Michael was very aggressive while being completely in the wrong.
There have been exceptions to the 50-move draw rule in the past but it has been a flat 50 moves since at least 2001 since while some positions take longer in theory no human would actually be able to play them perfectly.
Round 4 – Black vs David Paul – Result win
Another game against somebody close to my rating but a little below. So while I should win it could be hard. I didn't play the opening right however and ended up in a slightly poor position a couple of tempo down.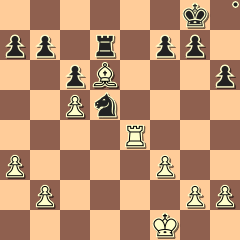 After some maneuvering (and the odd missed move by both sizes) white offered a draw after move 32. I decided to press on with f6 and was rewarded when after 32. ..f6 33.Kf2 Kf7 White played 34.b4? which allowed me to play Nc3 and bounce my Night to b5 and then take the Bishop on d6 along with an extra pawn.
A few moves later I'm a pawn up and with a clear path to the win although I made a mistake at the ended it wasn't bad enough to be fatal.
Round 5 – White vs Russell Dive – Game lost
After getting onto 3 points after 6 rounds I was rewarded with playing the top seed. As often happens with stronger players he just seemed to make 2 threats with every move and my position slowly (well not that slowly) got worse and worse as I couldn't counter them all (let alone make my own threats).
Eventually I resigned 3 pawns down with no play (computer assessed my position as -5.0)
Round 6 – Black vs Brian Nijman – Game Lost
Last round was once again against a higher rater play but one I had a reasonable chance against.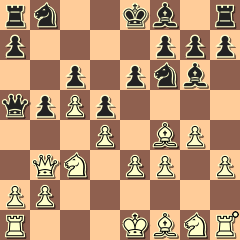 I prepped a bit of the opening but he played something different and we anded up in a messy position with White better developed but not a huge advantage.
We both had bishops cutting though the position and Queens stuck to the side but it would be hard for me to develop my pieces. I was goign to have to work hard at getting them out into good positions
After some swaps white ended up charging though my centre and with lots of threats. I spent a lot of time looking at this position workign out what to do.
White has the Bishop ready to take the pawn on b5 and offer check, possibly grab the Knight or pin the rook. While th Knight can also attack the rook. and the pawns can even promote.
I ended up giving up the exchange for a pawn but promptly lost a pawn when white castled and took on f7.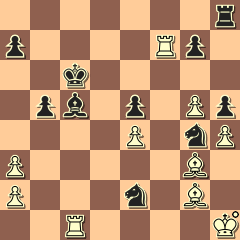 I decided to push forward hoping to generate some threats and managed to when I threated to mate with two Knights or win a rook after 32. Ne2
34.Rxc5+ Kxc5 35.Be1 Rd8 36.Rc7+ followed but I played 36. ..Kd4 and blocked by Rook rather than Kb6 giving myself a tempo to move my rook to d1. This would have probably picked up another exchange and should have been enough for the win.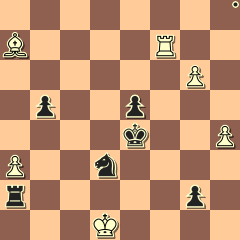 And then I found another win. All I had to do was push the pawn. On move 47 I just have to put a piece on f2 to block the bishop from taking my pawn on g1. If 47. ..Nf2 48. Bxf2 Rxf2 49. g1=Q leaves me a Queen vs a rook and I can take the pawn on g6 straight away.
But instead I got Chess Blindness and just  swapped the pawn for the Bishop. I then tried to mate (or perpetual check) the King instead of trying to stop the pawns (the computer says 50. ..Nf4 is just in time). A few moves later I ran out of King-chasing moves and resigned. At which point everybody told me the move I missed 🙂
So I ended up with 3/6 or 50% in the tournament. I Losts to the players better than me and beat the lower rated ones. I'm a little disappointed with the last game and the games against Russell Dive and Mike Steadman but happy with the others. Definitely need to keep working on things though.