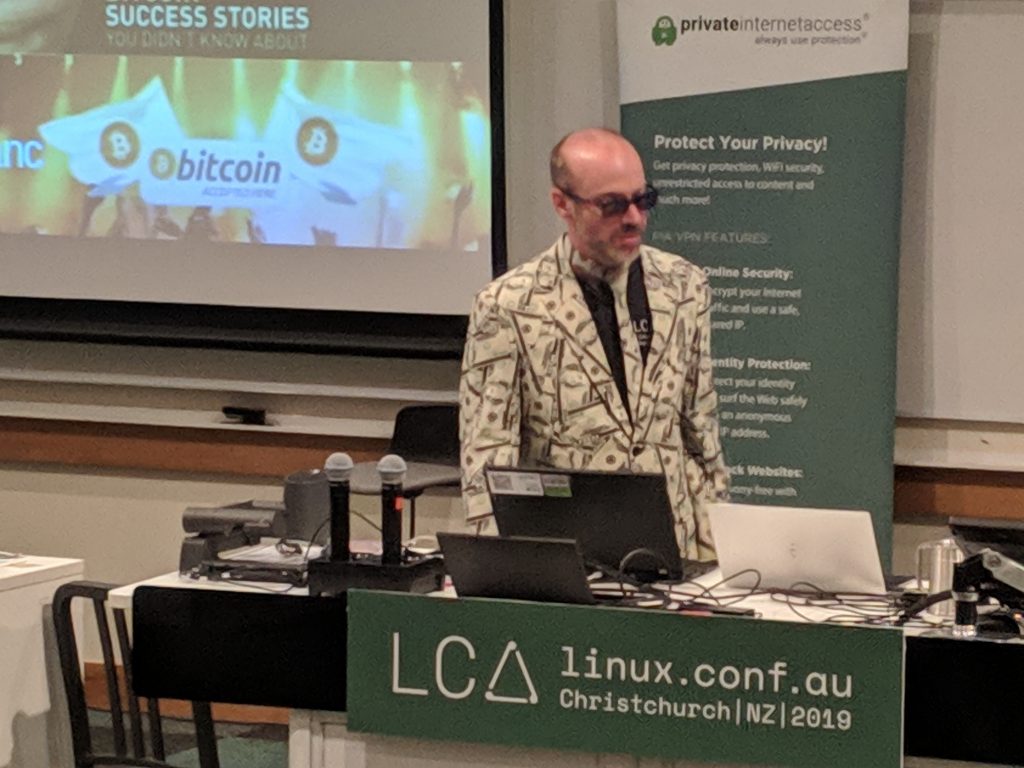 Bitcoin Billionare
1992

The days of SunOS
Read the GNU Manafesto

1995

Using GPP compiler at work
First patch accepted on November 1995

1997

USENIX Conference in california
UseLinux – Had a track for Linux
Hung around a bunch of top guys in Linux talked about added SMP to Linux
Talk on porting Linux to Sparc by David Miller & Miguel de Icaza. Going into improvements and showing how Linux port to sparc bet Solaris in the Lmbench benchmarks on same hardware.
Relaized lived in a world where students could create and port OS that bet the original OS from the vendor

1997 – 1998

Wrote (with another guy) and got ipchains added to Linux
"I woke up one morning and I was kernel firewall maintainer"
Got job people paid to work on Linux firewall code

1998

Decided needed an Australian Linux conference
Oct-Nov visited a bunch of LUGS to invite people and find person to collect money.
People not sure what they wanted to go to a Linux conference ( $380 bucks)
Invited John Maddog Hall
Created and ran a slashdot ad
Created card got into $14k negative
Last session of the 3rd day, reran the 3 best talks

Three stories from 1998

Tutorial Books for each of the tutorials- Couldn't get photocopies from commercial facility, so had to make 400 copies of books via 4 coin operated photocopiers
Tridge bought up a triple-CD burner. People ran it in relays
Somebody said. "I can't believe you don't have conference tshirts". He bought white tshirts, got them screen printed and sold them.

End of conference Tridge organised a gift from the Speakers to Rusty. Pewter Beer mug
Linux.conf.au after 1999

2001 scheduled 3 talks from Rusty. At the same time
Met Tridge at LCA – Moved to Canberra they did AusLabs

How Great Projects

Smart and Capable enough to complete them
They are Dumb enough to try
When somebody tells you about a project?

That sounds Great, Tell me more
What can I do to help

Enable people's enthusiasms
Collaboration is a super Power
Get along with people is a skill
"Constructive absenteeism"

Headwinds to collaboration

Signs are welcoming to some people
Other people get signs that they are not so welcoming
Good are seeing them when they are aimed at them, not so good are even seeing they exist when they are not aimed at them.