Another person at work had a flyer for this place so I thought I'd try lunch there. The full name is "Sal's Authentic New York Pizza". They appear to have only recently opened (ignore the "since 1975" bit).
As you can see from their website they are just a little counter and oven on a central Auckland street. They have a couple of tables out the front on the footpath you can stand at to eat but I just took my food back to the office. When I was there (1pm on a weekday) there was one guy most making the pizza and another guy (from New York, although I didn't catch if he had previous pizza experience) mostly serving.
I ordered a slice of Cheese Pizza ( $5 ) and 3 Garlic Knots ( $2 for the 3 ) which got put in the oven for a couple of minutes to re-warm them.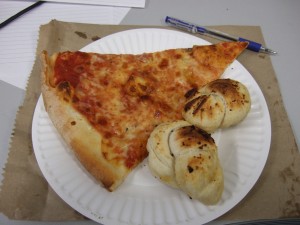 The pizza and knots were a good size and pretty good in general quality. Certainly filled me up for lunch. Service was friendly and fairly fast.
The only bad note was the guy serving didn't wash his hands between fixing a rubbish bin outside and handling food a minute or two later. That's the sort of thing that makes some people freak out and he needs to make sure he washes his hands next time.
However I'll probably visit again, although there are a couple of other good Auckland CBD pizza options.
Update
I receive and email from Nick Turner (Director of Sal's Pizza) in response to the above post. The email is fairly long so I won't reproduce it here but he has explained the linage behind the "since 1975" tagline which I am satisfied with and with respect to the less than perfect food handling I saw he says:
Because we are always striving for perfection with our product, service and
cleanliness, obviously we are unhappy about the handling of the rubbish bin
before food. We will continue to ensure this does not happen again, and
continue to maintain our Grade A health certificate.
As I said originally I enjoyed the pizza at Sal's and intend to go back there.