I thought I'd do a little review of one of the places I go to for weekend brunch occasionally.
Cafe Taska (see website) have 3 branches around the Auckland and while I work close to their Vulcan Lane branch their Dominion Rd place is just a few minutes away for the odd weekend splash-out.
Coming from town the cafe is located a block of so past the supermarket on the left hand side. The interior has lots of wood and is fairly dark although they do have a outdoor area out which I've not actually used. The daytime menu is the usual suspects plus a few Spanish influenced dishes.
The dish is especially like is the Piperada which is described as "Basque style eggs scrambled with red pepper and tomato sofrito, served in a terracotta cazuela with crusty bread" :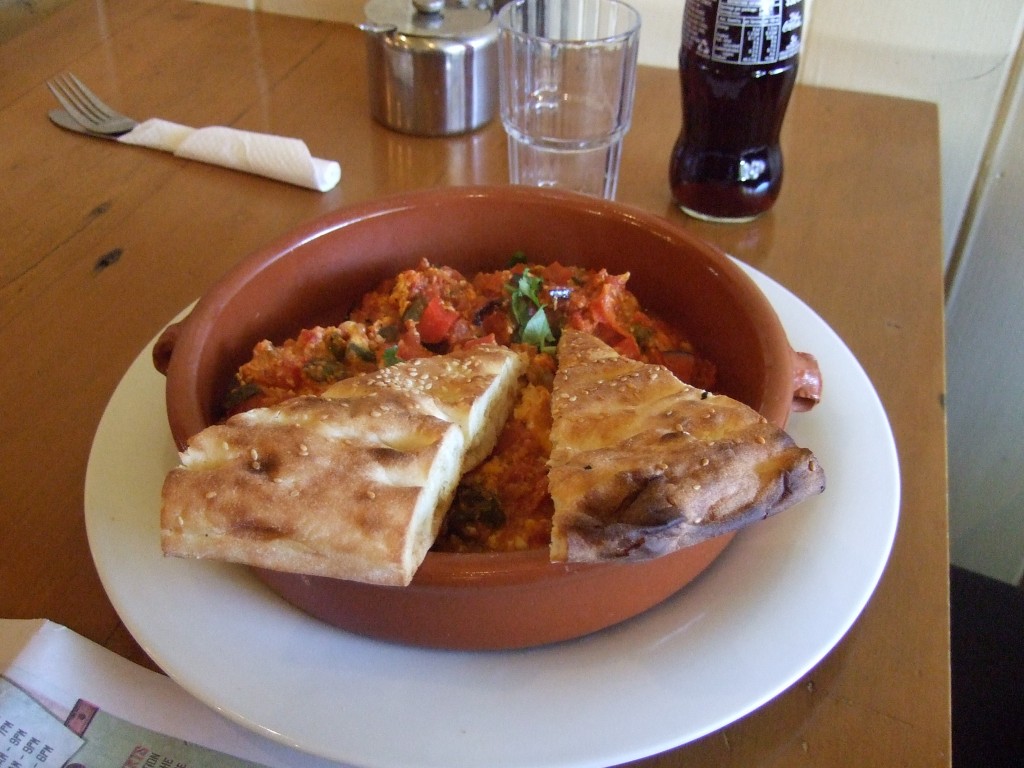 The whole thing is a very tomato-y mix which I find really delicious and is pretty big for the $15.50 is costs.
I also had a coffee and slice which was about normal although their sweet selection is a little more limited than many other places. They sort of try a few things like Baklava and Turkish Delight to be different. The Linzertorte (hazelnut & raspberry Tart) is interesting but not to my taste.
General atmosphere was good, music with mostly instrumental and in the background (the have live music for dinner), service was okay, reading material was a little limited with just one copy of today's Herald and a couple of magazines.
The big surprise I have about this place is how empty it is for lunch ( at least out the front). I casually dropped by for dinner a couple of weeks ago and I couldn't get a table since it was packed so people definitely know about the place but for some reason don't see it as a daytime destination.
Overall I quite liked it: 7/10
Cafe Tasca

338 Dominion Rd, Auckland

Menu and photos on website: http://www.tasca.co.nz/