This place is very close to work and I've been meaning to give it a try for some time. It's at 15 Swanson St in the Auckland CBD and is tucked in under the Stamford Hotel. It is pretty small with an outer room with the counter and a few seats and a small main room.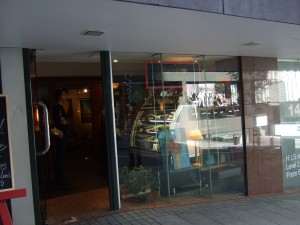 The interesting things is the "Gallery" bit. The café is a offshoot of an artists studio so there are several paintings by the artists on the walls (all for sale) and there is a studio out the back of the main room.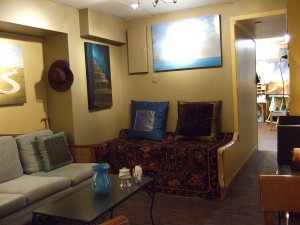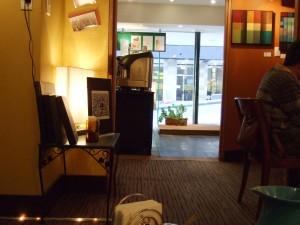 Food is standard coffee range with no surcharge for Soy milk and a selection is biscuits , slices and cakes. Pricing is a little cheaper than average (especially with no surcharge) at around $3.50 for a coffee (which is quite big) and $3 for most cakes and slices.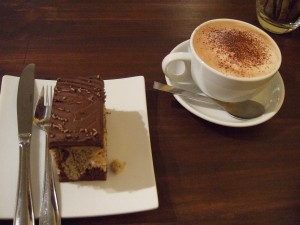 Service was prompt and fast (although it was pretty quiet when I was there) and felt a little more upmarket than usual. My coffee/cake was bought out on a nice hand-held tray to my table with a spork and knife.
I can't remember the music so it was either non-existent or quiet (either of which is good) but there reading selection was pretty minimal with just half a dozen give-away magazines (like the Red Bulletin).
Apart from the reading selection I was pretty impressed and I'll probably try it out as my regular for a while.
Update: I've just found their website which I missed previous. Has a better map and pictures than I do here as well as menu.